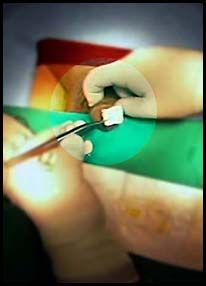 Penis Plastic Surgery Cost Factors
Penis enlargement surgery is safer and much more advisable than penis stretching. Dr Kim offers a comprehensive penis enhancement package of out-patient, permanent penis enlargement techniques to increase penis size.

Done under local anesthesias, the penis enlargement methods include:
glans penis enhancement (using Alloderm or newer, cheaper, better "MegaDerm" but NOT "MegaFill" a.k.a. "MaxiFill");
Lengthening (NOT a form of penis stretching) done at the same time as another procedure is offered at US$600 LESS than the price for that procedure only.
Only girth enhancement surgery for penis enlargement of diameter and volume varies in cost depending on the amount and type of material used to create the gains. (normally done under local anesthesia).
Only glans penis enhancement (this is REAL penis enlargement) costs US$2,400 net (surgical fee and MegaDerm cost, done under local anesthesia).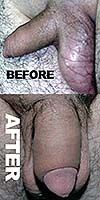 Included in any penis surgery fee Dr Kim quotes is the cost of:
consultation and physical exam;
wound dressing;
intravenous antibiotics;
medications during stay; and
wound dressings.
Forget penile enlargement pills and penile enlargement "exercises". Pills don't work and your penis is not a muscle.
How to increase penile size safely & permanently? How to enlarge your penis fast & affordable? Only penile enlargement surgery.
As these penile enlargement surgery pics show, increasing penis size through surgery works well and you can do it immediately.
To schedule an appointment and get a precise cost quotation specifically for the size enhancements you want, Dr Kim needs you to provide him with:
a brief medical history;
accurate measurements of current penile length and girth in both flaccid and erect states;
photos shot from various angles showing your penis in flaccid and erect state; and
at least one week advance notice.
MegaDerm or PLGA cost is separate from the surgical fee or technical fee (for injection enhancements) because patient material requirements vary.
Amount of material needed (and therefore material cost) varies according to:
how much size increase you want and
the size of your penis at the start of the process.
MegaDerm comes in a range of thicknesses from 3-5 mm.
PLGA scaffolds are 4 mm thick.

How many AlloGrafts* or how much AlloDerm* or MegaDerm will you need?
Most patients get as much as they can afford because more material means bigger size, bigger volume — greater penis enlargements.
Asian patients usually choose one piece of AlloDerm but it is your choice.
In February 2013, the US manufacturer of AlloDerm abandoned and surrendered the Korean market after domestic biologic origin scaffolds for girth enhancement — "MegaDerm" and "MegaFill" a.k.a. "MaxiFill" — were launched by Korea's L&C Bio.

"MegaDerm" comes as sheets and "MegaFill" a.k.a. "MaxiFill" is an injectable form of allogenic dermal collagen matrix
Dr Kim has performed more than 2,000 cases of girth enhancement surgery using allogenic dermal matrix sheets, such as AlloDerm and MegaDerm.
In his experience and in his expert opinion: "the surgical outcome of MegaDerm is very similar to AlloDerm, or sometimes better, but material costs are 25% lower."
He believes phalloplasty using alloderm sheets is a reasonably good option for penis enlargement.
He advises AGAINST use of MegaFill and does not offer it.
To keep it simple: DERM ↑ good, FILL ↓ bad. Read: "Why NOT MegaFill Phalloplasty?" ↓
PLGA scaffolds cost US$800 per piece. Consider getting the injectable form which provides approximately 100 times better contact with surrounding tissues and MUCH faster return to having sex.
Asians need one PLGA scaffold, Caucasians need two, some other men with big penises need three.
Other Options
You probably don't need any of these options.
But they are available to you.
One night stay in hospital (rarely needed): add US$230/night.
Intravenous, spinal epidural or general anesthesia: add US$575.
Free fat transfer for additional penis enlargement girth enhancement in addition to girth enhancement by allograft costs US$1,800.
Dr Kim's favorite method of penis enhancement is injection phalloplasty using Hyaluronic Acid (HA).
MegaDerm™ and MegaFill™ are registered names and/or trademarks of L&C BioGyeonggi-Do, Korea.

AlloDerm™ is a registered name and/or trademark of LifeCell Corporation, New Jersey, USA.
Case Manager's Phone: +1-216-220-4220 (Cleveland, Ohio, USA)
All procedures performed in Gangnam-gu, Seoul, South Korea.
(airfare adds about US$975 to total cost for Americans — still great value for money!)