Kim FtM Phalloplasty
Conjoined Bilateral Pedicled Groin Flap
Kim FtM Penis
Conjoined Bilateral Pedicled Groin Flap FtM Phalloplasty, also known as Kim FtM Phalloplasty or Kim FtM Penis is more affordable than other FtM phalloplasty procedures being offered. FtM penis size is dictated by the details of the person's body and size.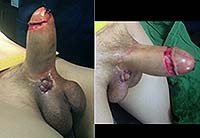 There is no option about penis size but the neophallus can still be used to urinate standing and results in larger penis size than metoidioplasty.
The neophallus is big enough and long enough to accommodate a penile prosthesis implant to enable FtM erections & FtM sex.
The penis length resulting from Kim FtM Phalloplasty is slightly below the global average penis length for natal males in most countries of the world except India [10.1 cm (4")] and Korea [9.6 cm (3.8")].
Basically, the size and realism of a neophallus is is directly proportional to the cost and number of hours in surgery as well as the skill and experience of the surgeon and the procedure used.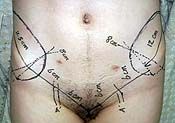 Conjoined Bilateral Pedicled Groin Flap FtM Phalloplasty and other phalloplasty surgery can be compared like cars: Kim FtM Phalloplasty is like a Hyundai passenger car — it works reliably, it gets you were you are going, it is good value for the money, it's safe, and the final result is aesthetically good.
Kim FtM Phalloplasty, results in a larger and better neophallus than radial forearm phalloplasty and metoidioplasty.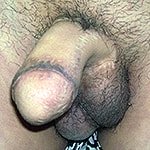 The results of more than four dozen patients has shown the scarring is significantly less than radial forearm phalloplasty and is totally concealed by underwear or a swimming suit.
Total Phalloplasty is a more complex, difficult, time-consuming, costly, challenging procedure so the patient can get a longer penis with a very realistic effect that can be difficult to distinguish from the penis of a natal male.
Kim Phalloplasty costs 40% less.

A Kim FtM Penis averages about 10.5 cm long (4.1 inches) and 4.5 cm wide (diameter, 1.8 inches thick).
It is suitable for a malleable penile prosthesis implant but not so suitable for an inflatable prosthesis.
After penile prosthesis implantation, the penis may get slightly longer and bigger. About 40% of patients decide to get a penile implant.
Conjoined Bilateral Pedicled Groin Flap FtM Phalloplasty is a three stage procedure but the order of the procedures is unique.

In Kim FtM Phalloplasty urethroplasty is Stage Three and penile prosthesis implant surgery is Stage Two.
Stages must be at least three months apart.
Surgical fees are precise package prices, not approximate.
The package price includes everything relevant to the medical nature of the visit to Seoul, including pickup from the airport if arrival flight and accommodation details are provided and the complimentary service is requested. Airport pickup is only available from Incheon, not Gimpo airport, and only for patients coming for treatment costing US$3000 or more.
Not included in the package price would be food other than meals provided while staying in the hospital and lodging outside of the hospital.
No FtM gender reassignment surgery (SRS organ removal) is included in any stages of this FtM surgery except vaginectomy in Stage Three.
Total for all stages of Kim FtM Phalloplasty is US$27600.
Note
Dr Kim reserves the right to require general anesthesia be used when his medical opinion is that it would be in the best interests of the patient.
Kim FtM Phalloplasty
Stage One — phalloplasty using bi-lateral groin flap, testicular prosthesis implantation: US$12000. It requires 4-5 nights in hospital and three weeks total time in Seoul.
Stage Two — penile prothesis implantation, vaginectomy and penile urethra pre-fabrication with vaginal mucosa: US$8400. Patient stays 4-5 stay in hospital and two weeks total time in Korea.
Stage Three —  urethral realignment and glans reconstruction: US$7200. Patient stays 3-4 nights in hospital and at least two weeks total period of time in Seoul. A longer recovery period is recommended.

Kim Phalloplasty hides all donor site scars much better than radial forearm phalloplasty.
It is a good choice if Perovic Total Phalloplasty is too costly.
The surgical results are more modest but still good value for money and create an effective, useful penis.
Dr Kim says, BMI is not an issue for FtM phalloplasty patients:
Groin flap phalloplasty can be performed on very obese patients without a problem. But I need photos of the patient's trunk area in advance of surgery for proper and precise answers.
Recovery from surgery is swift.
On the day of surgery, a patient can walk from the operating table to his bed.
A Kim FtM penis enables urinating while standing and holding it — point-and-shoot capability.
Kim FtM Phalloplasty also enables erections and sexual intercourse with a partner.
Penis size is controlled by the size of patient and donor site area.
Erotic sensation and orgasm continues to be provided by the clitoris preserved at the base of the neophallus. Patients report tactile sensation in the bottom half of the penis.
It provides a penis competitive with the national average size of natal male penises in many countries.
The number of possible complications are much more than you expect.
Infection rate for FtM penile prosthesis implantation is double the rate of natal males getting the same implant.
The primary complication of penis prosthesis implantation surgery is infection and the second is the risk of protrusion.
Possible complications from vaginectomy are many, such as post-operative bleeding.
Dr Kim considers complications as natural. Challenges are expected.
He is trained and experienced in solving them effectively. Don't worry too much.
Other Available FtM Surgical Procedures
Sexual Reassignment Surgery (SRS) and enhancements of FtM phalloplasty by other surgeons are available and include:
Metoidioplasty
Scrotoplasty
Inflatable Penile Prosthesis Implantation
Malleable Penile Prosthesis Implantation
Mastectomy
Making an Appointment
Dr Kim asks that a patient requesting a surgery date:
propose a date at least one week in advance;
provide us with a medical history;

send electronic copies of his original signed letters from the psychiatrists or mental health professionals to Dr Kim that state you have been diangnosed with Gender Dysphoria and Dr Kim is authorized to use surgery to correct the problem.





Those documents on the psychiatrist's official stationary with completel contact information are required by The World Professional Association for Transgender Health (WPATH) Standards of Care (SOC) to which Dr Kim chooses to adhere. Hand-deliver the original letters to the surgeon when you meet him at the clinic in Seoul.



The SOC are available in these languages: