FtM Top Surgery Mastectomy
FtM Top Surgery
Mastectomy
Female to Male GRS

FtM mastectomy top surgery requires psychiatric approval as per WPATH Standards of Care.
Mastectomy categories:
Small — requires two hours of surgery using "key-hole" procedure: US$3000
Medium or larger in size — requires 2.5-3 hours of surgery using "extended keyhole" procedure: US$3600
Skin excision procedure — requires 3-4 hours of surgery: US$4200.
Skin excision and relocation of nipple and Areola — requires more than four hours of surgery: US$4800

Nipple and Areola reduction procedure is included in these prices.
Hospital stay may be one or two days.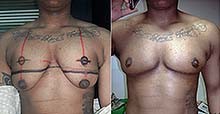 The suction drain will be removed within 5-7 days.
Skin suture removal is usually not needed, because Dr Kim uses absorbable suture material.
Costs quotations are issued on a case-by-case basis and can fall between the four major categories listed above.